There are many remarkable corners in the Kopetdag mountains. Many mountain range is delighted with a contrast of the scarp canyons and wonderful plains – plateau, both at the foot of the ridge, and between the mountain tops.

Mountains in this area are formed from the thick mass of sedimentary marine deposits, in layers of which are often met the fossils of giant shells - amonites – molluscous inhabited in antient sea, original ball-shaped concretions, imprints of exotic plants.

Not only these fossils of previous life attract here the nature lovers. The real natural landscape monuments are presented here – busiest canyons, on bottom of which the mountains rivers stream down to plain: Altyyab, Bakhchi, Sekizyab.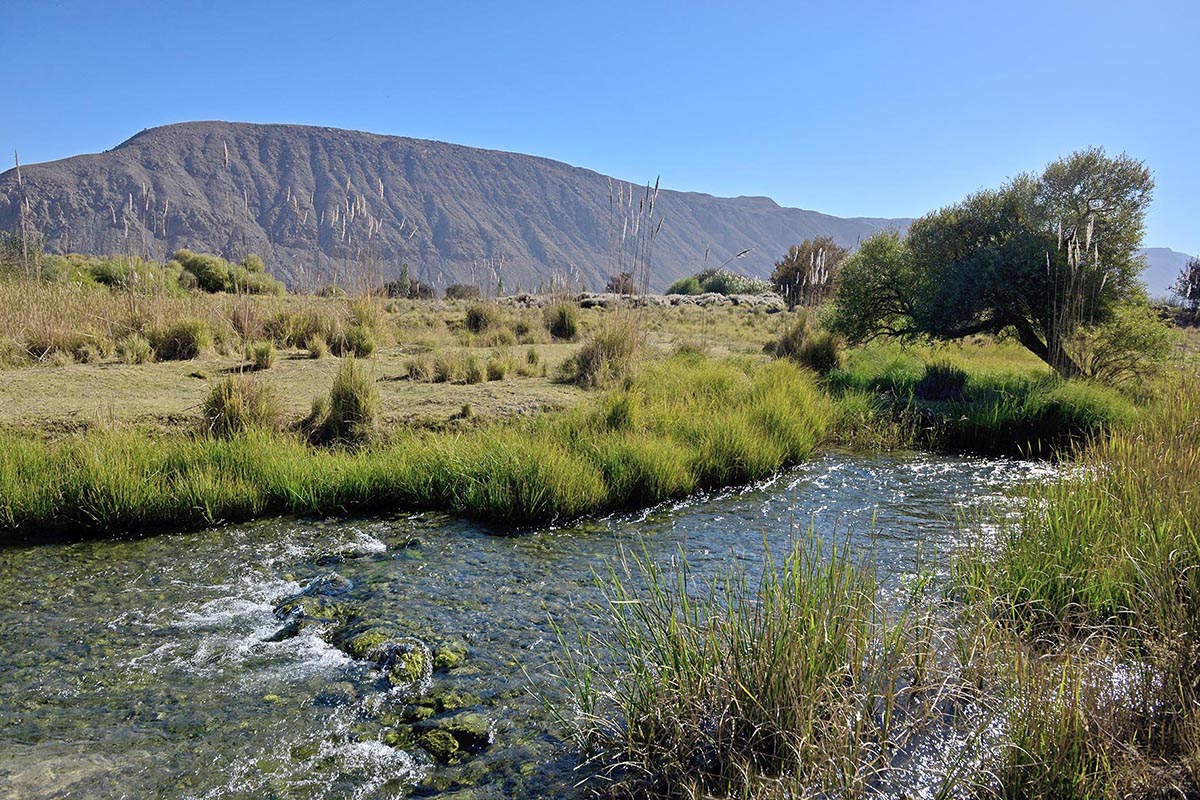 Almost all streams of the Central Kopetdag fed from the sources from the largest lateral valleys - faults in the many mountain range, dozens of kilometers long. Exactly such sources in the Germab valley from which originate Sekizyab river (eight streams).
Germab is truly paradisal oasis, hidden among the canyons and passes of Kopetdag. Here, indeed, eight fontanels are beating from one place, forming a small creek. There are locations, where the stream is a little wider and deeper. And where there is water, there is life. Even on these autumn days, the valley is buried in greenery. And in spring, when the fruit trees begin to bloom and the surrounding mountain slopes are covered with poppies and tulips, the local landscapes can inspire any artist.
The fast-flowing mountain river leaves the valley, forcing its way through to canyon with sheer walls, rising up for dozens of meters. Somewhere the canyon gets narrow and turns into a great canyon with arabesque cliffs, resembling with their forms the figures of fabulous beasts.
Around - lush vegetation: bushes of wild grapes, walnut trees and barberry bushes, thickets of blackberries and hawthorn bushes, sour-sweet fruits of wild pomegranate, pears, quince, cherry plums, apple …
In the foothill of Kopetdag grow about 1700 species of plants, which is the largest «collection» in the Central Asia. Here, in a surprising way, plants coexist, which are quite distant from each other by geographic origin. Thus, the widespread ancient Mediterranean species get along well with endemic. Travelling around the nature reserves of Kopetdag, the eco-tourist will certainly pay attention to the fact, that herbaceous plants significantly prevail over the woody plants - juniper-maple forests, typical for these landscapes.
On bottoms of valleys and canyons they form the lines of natural forest orchards. The tree and shrubbery hygrophilous vegetation of valleys and canyons became the relict monument.